NVIDIA Deep Learning Institute
Education and training solutions to solve the world's greatest challenges.
The NVIDIA Deep Learning Institute (DLI) offers resources for diverse learning needs—from learning materials, to self-paced and live training, to educator programs. Individuals, teams, organizations, educators, and students can now find everything they need to advance their knowledge in AI, accelerated computing, accelerated data science, graphics and simulation, and more.
Benefits of NVIDIA Hands-On Training
Access to Technical Expertise
Learn from technical industry experts and instructors who are passionate about developing curriculum around the latest technology trends.
Flexible Training Solutions
Take online courses on your own schedule or join live workshops from anywhere with just your computer.
Industry-Standard Tools and Frameworks
Gain hands-on experience with the most widely used, industry-standard software, tools, and frameworks.
Applications Across Industries
Learn to build deep learning, accelerated computing, and accelerated data science applications for industries, such as healthcare, robotics, manufacturing, and more.
Earn Certificates
Earn an NVIDIA Deep Learning Institute certificate in select courses to demonstrate subject matter competency and support professional career growth.
Real-World Examples
Gain real-world expertise through content designed by NVIDIA and industry experts.
GPU-Accelerated Servers in the Cloud
Access fully configured, GPU-accelerated servers in the cloud to complete hands-on exercises included in the training.
Reduce Time to Production
Build production-quality solutions with the same DLI base environment containers used in the courses, available from the NVIDIA NGC™ catalog.
Enterprise Solutions
Build your team's skills and confidence in the areas of accelerated computing, graphics, and advanced networking with our comprehensive technical training program. A training needs assessment helps identify skill gaps while learning paths provide the steps needed to develop competency in key areas. Training advisors work with you to create customized training plans and support you every step of the way. Our Enterprise Training program can help you develop the talent you need to fuel innovation and drive growth in this age of AI, high-performance computing (HPC) and the metaverse.
Learn More
Learning Paths
Interested in a particular topic? heck out our learning paths, which outline recommended courses and workshops to develop competency and gain credentials in specific areas.
Explore Learning Paths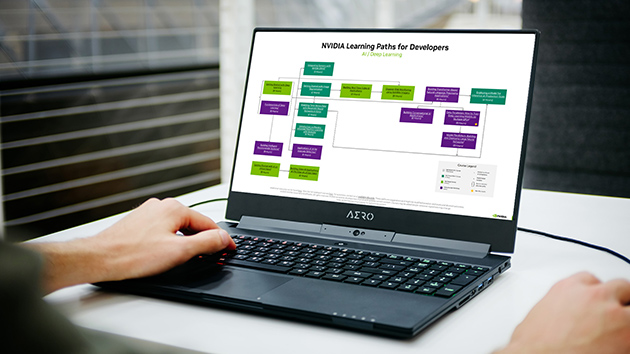 Educator Programs
and Teaching Kits
NVIDIA DLI offers downloadable course materials for university educators and free self-paced, online training to students through DLI Teaching Kits. Educators can also get certified to teach DLI workshops on campus through the University Ambassador Program.
Learn More
Questions?
Contact our sales representative.